By Jacinda David, Owner, Just Bounce Trampoline
We are so proud to announce that Alison Carty has won the prestigious 2017 Recreation/Grass Roots – Trampoline Coach of the Year Award presented by Gymnastics Ontario. It is an honor to be recognized on such a high level for demonstrating commitment, personal achievement and as a positive role model. At the 49th Annual Awards Banquet, Coach Alison was awarded for her commitment to safe and ethical coaching practices, leadership in the advancement of of active healthy living opportunities, personal and professional development through education and training and her willingness to share her expertise in a variety of ways.
---
ALISON CARTY – Recreation/Grass Roots Trampoline Coach of the Year
---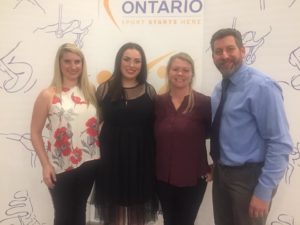 Alison goes above and beyond to make sure that every person she coaches has the same chance to be involved, learn something and have a great time while doing so. Her emphasis on a fun and inclusive learning atmosphere is clearly reflected when watching her lead birthday parties and school group bookings. the games are sill and active, her smiles are frequent and genuine. In her work with our students with special needs, Alison focuses on accommodating everyone in a way that suits their challenges.
With out a doubt, Alison has the soft skills side of coaching mastered. She is also consistently developing her technical skills, taking extra time to practice spotting, discussing progressions for a tricky skill and in an active participant in the clubs  technical meetings.
---
Congratulations Coach Alison! We are proud of you!
---
ABOUT THE AUTHOR:
Stephen and Jacinda have been working as a successful duo since Just Bounce Trampoline Club opened its doors in 2004.  They love to share the adventure that is trampoline with recreational and competitive athletes alike.  They have coached several athletes to National Championship titles and International medals at Pan American Championships and World Age Group Championships in both Double Mini Trampoline and Individual Trampoline.