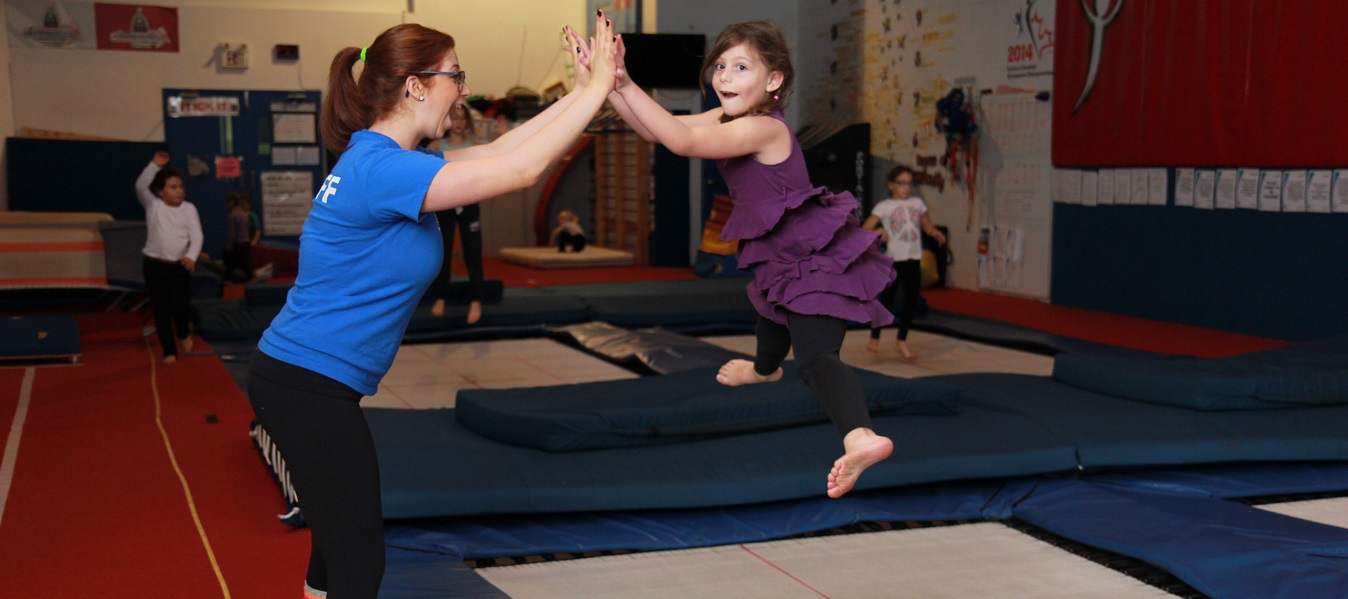 Welcome to Just Bounce
---
Jacinda and Stephen David opened Just Bounce Trampoline Club in 2004 to share their love of their favourite sport with others! We are business owners who are committed to making a difference in the lives of our clients. We want to enable everyone who walks through our doors to experience success through sport!
We are a family owned and operated business committed to giving your family a safe and fun trampoline experience! This is a super creative way to keep fit while having fun – Check out these 17 Benefits of Trampoline Exercise.
Our facility has 8 Competitive High Performance Trampolines surrounded by side and end decks for comfort and safety. We offer Instructional Classes, Day Camps, Birthday Parties, Field Trips and Private Lessons.
Your fitness adventure awaits!
---
A Safe & FUN Trampoline Experience
---
We love hearing from our customers and meeting new people!
Drop in or contact us during our business hours.

We thought you did an outstanding job with our birthday party for 9 year olds. Everyone had a great time and a great work out, no one got hurt and the energy levels were more or less under control by the time we hit the party room for food and water. Thanks again, we will recommend it.

~ Annelies
The staff were very nice and supportive to my son. My son loved Just Bounce and the staff.
~ Mary
My son loves his trampoline classes, and we appreciate the 1:1 support that helps him. Thanks.

~ Nicole
The kids loved it [summer camp]. They looked forward to it every day. It was a great experience. The camp staff seemed to love their jobs and the kids. They also seemed so proud of the kids.

~ Julie
Thank you again for everything. You truly made a difference in the lives of both the girls, as well as our family!! We wish you all the best and continued success. We will always send anyone you way who is interested in joining trampoline!!
~ Jeff & Beth
Thank you so much for all of your assistance with my son's birthday party. He and his friends had a great time. Having you guys handle the pizza and cake and plates, etc, was a huge relief. It was so easy for us to enjoy the afternoon. Thank you for everything!
~ Karen
Your staff is great – so full of energy and excitement. They really made the time special for the kids.
~ Laura
Thank you for making these trampoline classes so much fun. I have had a great time competing with Just Bounce.
~ Kyra
Many thanks to you and your staff for a great year. I am so pleased that my daughter has found a sport she loves, with such kind and knowledgeable people teaching and supporting her.
~ Jane
Just wanted to say thank you for hosting such a great party today. Joss and all her friends had an amazing time!
~ Chrystal
Thanks for the great birthday party. We all had a great time and the kids loved every minute.
~ Lyle
Everyone really enjoyed the party. I will highly recommend Just Bounce to all the parents I know who have kids with boundless energy!
~ Debbie
We had Peter's 5th birthday party at Just Bounce and it was a huge success. Your staff were really, really good with the kids and they just loved it!
~ Alyssa
I just want to thank you for a fantastic party. The coaches were great with the kids, and we really appreciated the help with set up and cleaning up. All the kids had a wonderful time and Jordan said it was his best party ever! Thanks again!
~ Annette
My son loves going to camp. Thank you so much for providing this opportunity for him. We are so grateful to you at Just Bounce and Reach for the Rainbow. Many thanks for all your help and support in helping our angel have a camp experience.
~ Edite & Franco
Being a part of the Just Bounce family has changed my life in countless ways. At Just Bounce I've learned perseverance and determination through your guidance. I can honestly say that I was so privileged to have both of you (Jacinda and Stephen) as my coaches. The joy coaching brings to you, and your athletes is like no other. You are the kindest coaches I have ever met, and I would like to thank you for helping me grow as an athlete and as a person.
~ Zara
We had such a great time with you and your staff. Wow, what a great work out! I couldn't move for 2 days after.
~ Angela
I wanted to thank you for everything. I'm always excited to come to class and look forward to every session.
~ Elise
Thank you so much for a great trampoline experience. We enjoyed out first session very much. James is an excellent coach and we learned a lot from him. It was great getting to know everyone. Thank you for your patience and continued support.
~ Sara & Carolyn
I would like to take this time to thank you all for a great experience we all had at my son's birthday party. The staff was helpful and very knowledgeable. Everyone had a great time!!
~ Mario
Thank you to all staff at Just Bounce for the compassion, patience, and sensitivity they have shown our students over the years. Very few sport-based classes we have encountered offer such a body-positive, inclusive environment. Just Bounce truly knows how to celebrate the joy of physical achievement for all children.
A thousand thank yous!
~ Sarah
Don't miss out! Join us for a SAFE and FUN trampoline experience!!